Pension Lerner – Your small Bed&Breakfast in the middle of the of the old town
Wipplingerstraße 23, A-1010 Wien
+4315335219, +436645345626, info@pensionlerner.com
Dear Visitor! WE ARE OPEN and very happy to welcome you soon! Google Maps says that we are permanently closed, this is because someone hijacked our Pension Lerner google account and changed the status. We keep trying to get back the ownership.
The pension was founded in 1975 by Family Lerner and was taken over by Veronika Schöll in 1996. The pension is located in the centre of Vienna, perfect to explore the old city on foot. The St. Stephen's cathedral, the underground lines U1, U2, U3, U4 and the airport bus, which departs from "Morzinplatz", are all just a few minutes' walk away.
Pension Lerner`s buidling was constructed in the end of the 19th century, at that time it was the highest building in Vienna. An old picture from 1906 shows that the Pension once was the Viennese office of the US company *Singer & Co Sewing mashines*.
The difference between a hotel and our pension is, that we concentrate on what is important: bed and breakfast. You can enjoy all the elements of a typical Viennese pension. It is located in the mezzanine of a charming house built around the turn of the century, managed by the owner and has an individual character. The regular guests appreciate the comfortable atmosphere and the international visitors. Who knows, maybe you will be a regular customer soon, too?
Surroundings
The "Grätzel", as the Viennese call their neighbourhood, is less touristy than other areas in the centre of Vienna but the real heart of everyday Vienna. Nearby you can find lots of small cafes and shops, mostly visited by Viennese themselves, for example the "Cafe Naber", which is just next to the pension and offers superb coffee in rooms furnished in the 50s style.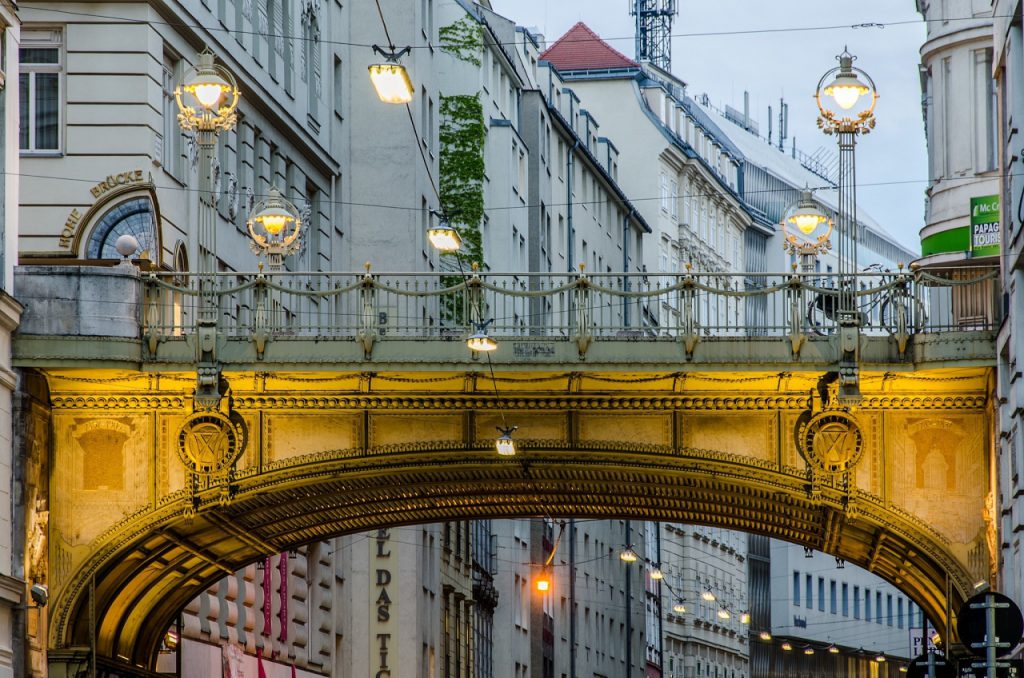 Walking along "Wipplingerstraße" you will see the "Hohe Brücke". This bridge was built in 1903 in art nouveau by Waagner-Biro and spans over the "Tiefer Graben" which used to be a riverbed.